It's essential that you
stay informed
about what is happening in Ferguson. It's important that you hear the
stories (the full stories), that you go beyond what is covered in the news. It's important that you not become entrapped by smear tactics of the empowered.
With this in mind, I am highlighting here some of the vital elements of Michael Brown's killing. So much of this is drawn on the brave reporting and
lived experience of others
. It's vital that you to go to the links,
follow the twitter accounts
, and actively support the folks I link to below.
.......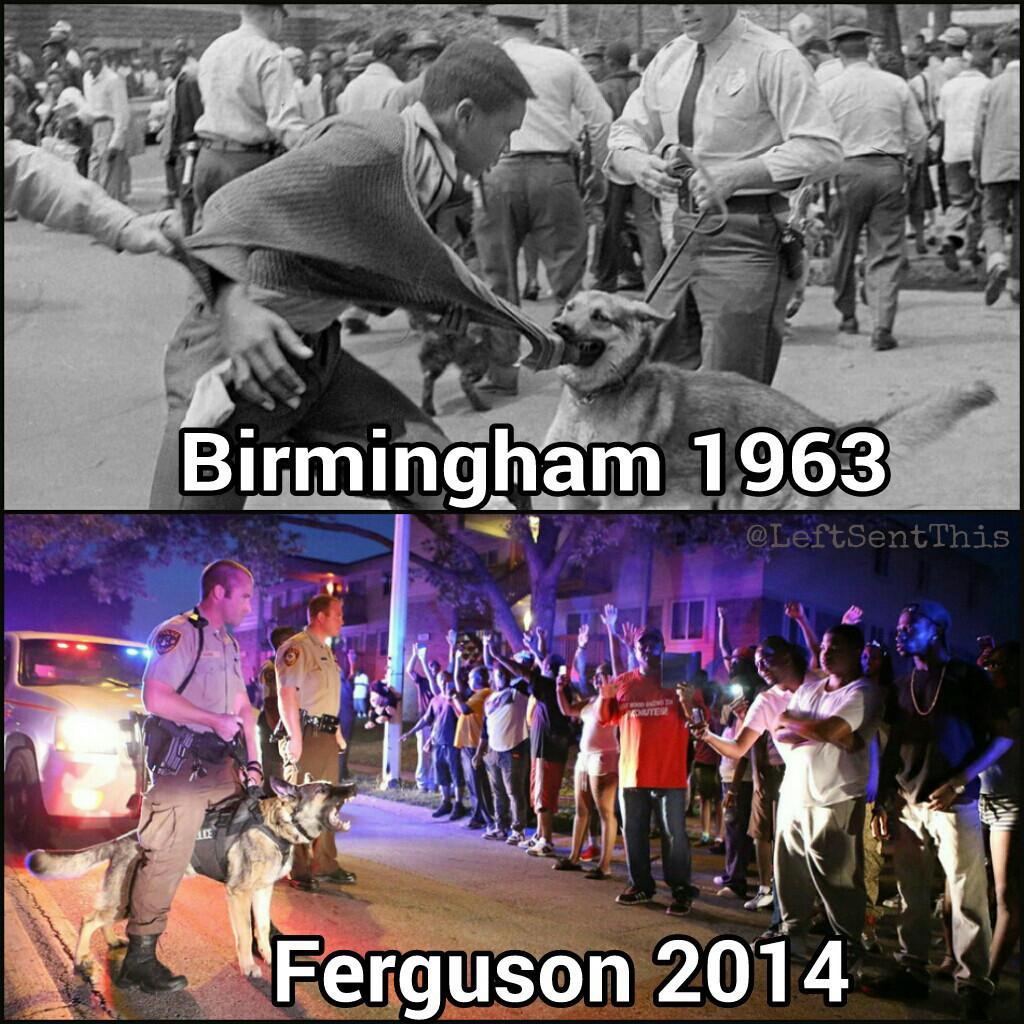 This is about the killing of young black man.
He was not a suspect
. He was walking down the street. Multiple independent and unrelated witness describe that he was
shot multiple times from a distance
with his
hands up in surrender
. No
ambulance was called to the scene
. Instead, the officer call in to dispatch for more
officers, cars, and K-9s to be brought in
from multiple precincts. Increased police presence
incited anger and agitation
, even as Michael Brown's was left on the street for hours (see this
excellent video report
).
The next day, there was a press conference to release the name of the cop who killed Michael Brown. They did so, but rather than releasing an incident report about cop
Darren Wilson and the shooting
, they
released one
of Brown allegedly
shoplifting earlier that day
. Instead of pictures from the crime scene, they showed footage from the shop's security camera. It was nothing short of
character assassination
of the victim.
As it turns out, Officer Wilson's approaching Michael Brown had
nothing to do with
the earlier incident. The videos from the convenience store are complete inadmissible in court. And police knew it. But the media coverage had already been
effectively hijacked
. But the
court of public opinion
? The
biases of a jury
? The perpetuation of victim blaming? The media? The video is still admissible for all those things.
The narrative was crafted
.
Thus, after four days of
peaceful protest
, the
crowd
was
re-instigated
.
@thetrudz
notes that
"It takes a lot of practice to face the but of a gun and not physically defend yourself. They are learning as they go while under military siege...When someone harming you, the common reaction is physical self defense, if able. [Civil Rights Movement; CRM] activists were
trained
how not to react. This is
hard
...CRM had months of planning/training." (See also,
The Cross and the Molotov Cocktail
).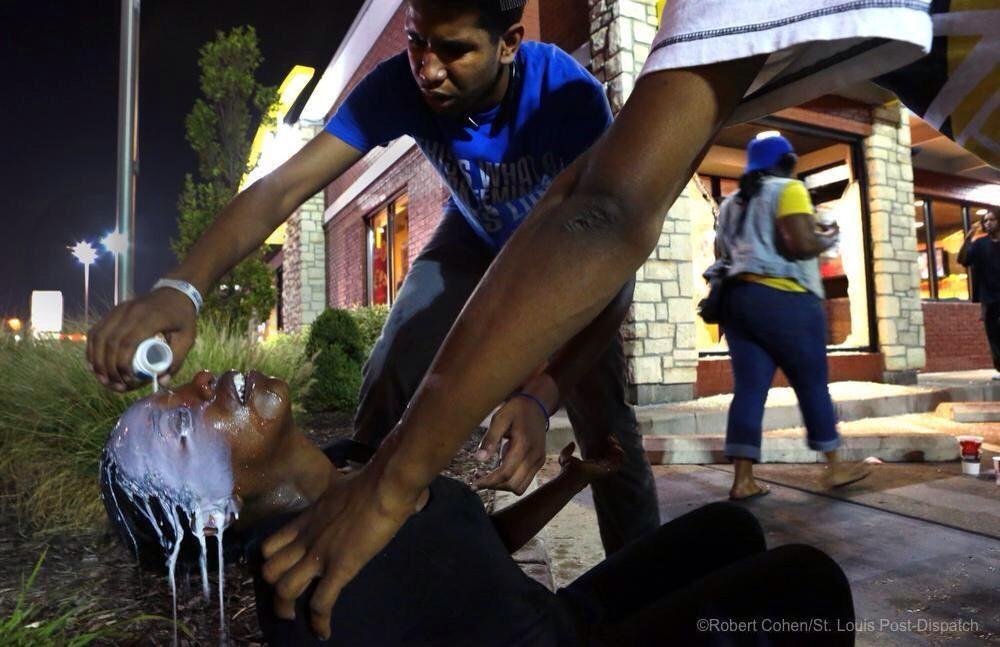 Over the weekend
,
curfews
were
imposed
at midnight to stop the protests and to send the media home. These were intentionally violated as acts of civil disobedience and in a
statement of free speech
. Sunday evening, police fired
tear gas, rubber bullets, and sound cannons
into crowds with
little to no warning
. This was
hours before the curfew
was supposed to be in effect.
Children were in the crowd, and were hit
. Media were threatened. Residents used
milk from McDonalds to treat victims' burning eyes
. Monday morning the news described it as
looting
. The police said they were responding to
gunfire
. It
turns out
it was
fireworks
.
Amnesty International has sent a delegation
to Ferguson, the first time they have ever done so in the United States. Meantime, a
private autopsy was released
showing Michael Brown was shot six times. Several at long range (including into his palms), and some at short range (including the top of his 6'4" head).
For now, we're in a holding pattern. Each day continues a vicious cycle in which frustrated citizens are antagonized and frighted. They react. The police wait,
do nothing to remedy
the
specific incidents
of vandalism or disorder (
the citizens are left to handle that
), and
then move in en masse
against the entire crowd with
tremendous force
. The cycle continues. If things calm down in Ferguson, it will be because of the efforts of the
clergy
and key leaders in the protest, not through any of the aggressive actions of the police
There are many aspects to this story.
The criminalization of black bodies plays into this.
White media bias plays into this.
Social media is often deemed untrustworthy, but in the absence of reporters, this is how most of the videos, images, and evidence has been made public. When mainstream media went home, or was turned away, this is how we heard what was going on. These platforms allowed individuals to get the word out, by providing access and amplification of Black voices that wouldn't otherwise exist.
History plays into this.
White silence plays into this.
If your family, community, or church has not consistently done the work of discussing and dismantling systems of racism,
do not be 'shocked'
when events like these occur or when white churches stay silent. How many white onlookers felt Brown's killing was being blown out of proportion? How many saw the protests as an overreaction? After so many calls '
to wait to get the facts
,' from sources white folks could 'trust' (read: non-black sources), it turned out
the facts
were
even worse
than we feared. The more we hear the worse it gets. And in the meantime, the citizens of Ferguson have been struggling on their own.
Drew Hart reminds us
(through Dietrich Bonhoeffer) that "the
church was mute
when it should have cried out, because the blood of the innocent cried out to heaven." Instead of sanctimoniously saying "wait, wait" (as the
white clergy did in Birmingham
), listen to the
lived experiences
of black folk that tell us the reality of the world in which we live.
Laila Lalami
notes "If you want to learn about privilege in this country, you only need to ask who gets the benefit of the doubt." Take note when
your mind says
"yeah, but..." or "we need a balance" or "we should get the full story."
Consider where these instincts
come from, and in whose favor they likely are. Who does your instinct tell you to believe?
Who is it your instinct to correct
? Are you more likely to be directing your critiques at the
oppressed or the oppressor
? Do you actually want peace?
Or just quiet
?
Don't be tricked into thinking you're playing 'devils advocate,' when you're simply reiterating the position of power and maintaining the marginalization of the oppressed. Instead, be skeptical of your reactions.
We live in an
"intensely physically segregated country." White folk that believe
police treat black and brown people fairly
, aren't around enough to notice.
Christena Cleveland notes
(through MLK) that "it is hardly a moral act to encourage others patiently to accept injustice which he himself does not endure." You have a choice. Who are you going to believe? The oppressed or the oppressor? The powerful or the powerless?
Sure, there are complexities and caveats. But those aren't the voices that need amplifying--they're already
getting plenty of coverage
. Many of us only get our news from the seats of power. Media that is operating under the assumption of a post-racial world. Media that arrives in with preconceived notions of who is violent and who is in the right.
..........
At the center of it all, it's still about Michael Brown, a young man who was killed in cold blood by a cop who has not been detained or arrested. Don't lose sight of that.
Take the time to read the links above. He's worth that. The lives of our sisters and brothers deserve that. And some of us have a lot of history to catch up on.
What followed Brown's death, simply revealed to the world what Ferguson (and the rest of Black America)
has known for years
. Decades. Centuries. And our citizens will still be stuck with a dangerous & racist police force "protecting" them tomorrow.
Black Girl Dangerous
reminds us that "this happens every 28 hours. There's already been another unarmed Black person killed since Mike Brown"
Don't go back to forgetting. Don't go back to being 'shocked' that something like this could happen. Black and brown folk know they still need to be wary of police, and an innocent boy is still dead. These facts have not, and will not, change over the next weeks and months of Ferguson's story.
Khaled Bey
notes that "a dead teen & a decimated community shouldn't be needed for a national conversation on institutionalized racism within police departments." If you're just starting to listen, lament that it took yet another gunned-down boy and the militarization of a city to get your attention.
What we need now is justice. We need an
official autopsy report
. We need an interrogation. We need an arrest. We need a legitimate trial. We need safety for our black sisters and brothers. We need the lives of murdered restored. We don't have any of these things. Some of them we will never get.
"They dress the wound of my people
as though it were not serious.
'Peace, peace!' they say,
when there is no peace."
-
Jeremiah 6:14